News & Events - Latest News -
Five new projects, One big impact: Youth leadership for COVID-19
World YWCA announces the five grantees of the Global Youth Mobilization's National Project Funding
Driving change through the activation of youth by funding Big 6 national organisations and networks is at the heart of the Global Youth Mobilization (GYM). By critically supporting and sustaining investments in youth and taking action for response and recovery of COVID-19, the Global Youth Mobilization initiative is not just reducing the post pandemic impact on youth and communities, but investing in youth-led innovative solutions on-the-ground.
As a part of the WHO supported USD 1.2 million support through national projects, the Global Youth Mobilization initiative is investing in these types of projects with the Big 6 Youth Organisations.
We received an overwhelming response in response to the Call for Proposals made to the national and local YWCAs applying for the funding.
Following feminist funding principles and focusing on initiatives with youth-led elements, a panel of young women selected five projects for national funding. These grants aim to provide young people with the skills, resources and knowledge to make change in their local communities and develop innovative solutions to the impact of COVID-19.
Join us in congratulating these YWCAs, read a little about their projects below. Over the coming months, watch out for World YWCA social media for more updates. Feel free to follow the websites and social media of the YWCAs for more direct updates. 
YWCA Albania: 'Girls' Clubs as a promoter of leadership during the COVID-19 pandemic'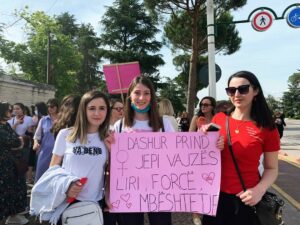 The project aims to promote the leadership of girls, part of various socio-economic groups, by creating up to 12 Girls' Clubs across Albania (Berat, Shkoder and Durrës), to address and respond effectively to sensitive issues heightened by Covid-19, such as mental health, reproductive health, self-image, gender-based violence, gender-based stereotypes, the impact of lockdown, etc.
The purpose is to give a strong voice and a safe space to young girls to increase their resilience, advocate for leadership and create strategies to overcome challenges and address different forms of violence, with a special focus on cyber and gender violence.'
Through the project, young women's leadership skills will be promoted, nurtured and grown to create a significant impact on development and inclusion in light of COVID-19. The improved self-image and confidence will be key to challenge gender-based and online violence, reduce impact on mental health and also have them access health services based on their unique needs.
Reaching 100 young women directly and more than 1000 within 6 months – the project will focus on long term engagement and impact on young women and girls.
Follow Albania on their website and social media.
YWCA Ethiopia: 'Strengthening Young People's Initiative towards COVID-19 Response and Recovery'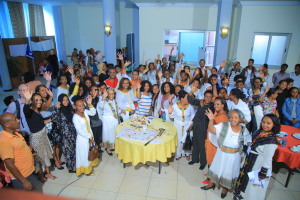 With the goal to amplify young people's efforts towards reducing the impact of COVID-19, the project aims to facilitate girls' equitable access to education in 6 primary and secondary schools, and the university, in the Debre Birhan area, by the end of 2021. They aim to reach more than 3500 young women and girls.
Marginalised girls and young women are highly vulnerable to socio-economic exclusion, particularly in education, despite progress made to narrow the gender gap, exacerbating permanent school drop-outs due to child marriage, economic burden, and other factors.
The project will help solve COVID-19 related issues including reduced girls' access to equitable learning, re-enrolment & catching-up. In addition, it strives to empower young women to advocate and influence local authorities and community gate-keepers.
Focusing on education and a stay-in-school approach, the project will reduce the negative impacts by having vulnerable girls continue their education as a result of the actions of engaged young people.
Follow Ethiopia on their website and social media.
YWCA Malawi: 'Youth united against COVID-19'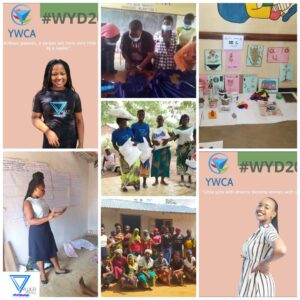 By effectively mobilising more than 1000 young women and indigenous community members in rural and peri-urban Malawi, the project aims to reduce the spread of COVID-19 and address the impacts it has had on young women in 2 YWCA centres in Likhubula and Mulanje.
The project will include young girls who dropped out of school to marry or become mothers due the pandemic, as well as young women (and women) who have experienced GBV, especially rape or defilement. It seeks to address the mental health concerns of these young people through the provision and innovation of psycho-social services, led by young people on the ground, building the capacity and resilience skills of this particularly vulnerable group.
By engaging local governance structures and organisations using multiple community outreach techniques, young people will work with local duty bearers and effectively demand essential hygiene & sanitation materials for schools and markets, with the aim that at least 65 percent of community members adhere to COVID-19 prevention measures (i.e. wearing masks and social distancing) in public areas.
Follow Malawi on their website and social media.
YWCA Metropolitan Chicago, USA: 'Be the Change: Advocacy in Action'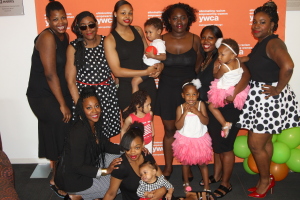 By leveraging the community voices of young parents (18-30 years) in Chicago's south side the project will address a priority community need of reducing the economic and health impacts of the COVID-19 pandemic on Chicago, specifically communities of colour.
Targeting more than 250 young adult Black/African-American women, aged 18-30, engaged as current and prior members of the Young Parents Programme, they will be trained in how to develop proactive advocacy initiatives including campaigns, storytelling, best practices for communicating with elected officials and securing public support for ideas.
The project will empower participants to recognise their potential power and influence, to increase engagement in their local neighbourhood, and to leverage their voices to address a pressing issue important to them.
Follow Metropolitan Chicago (local YWCA), USA on their website and social media.
Togo/UCF 'Empowerment and resilience building of young people in the face of the negative impacts of COVID-19'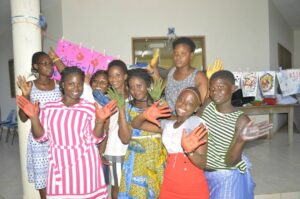 With the aim to strengthen the resilience of over 250 young people to the negative impact of COVID-19, especially on an economic level, this project will support young people towards financial independence, especially vulnerable 18-30 year olds.
Through non-formal education and learning activities namely photography, customisation, culinary art, gender-based violence (GBV), early pregnancy, marginalisation of young people living with physical or mental health issues, and school dropouts, the project will be implemented in areas of Adidogome, Tsévié, Kpalimé Tové Ahoundjo and the University of Lomé.
Follow Togo/UCF on their website and social media.

A second round of funding will open later this year for others to apply. For more information on the Global Youth Mobilization Initiative, contact worldoffice@worldywca.org.