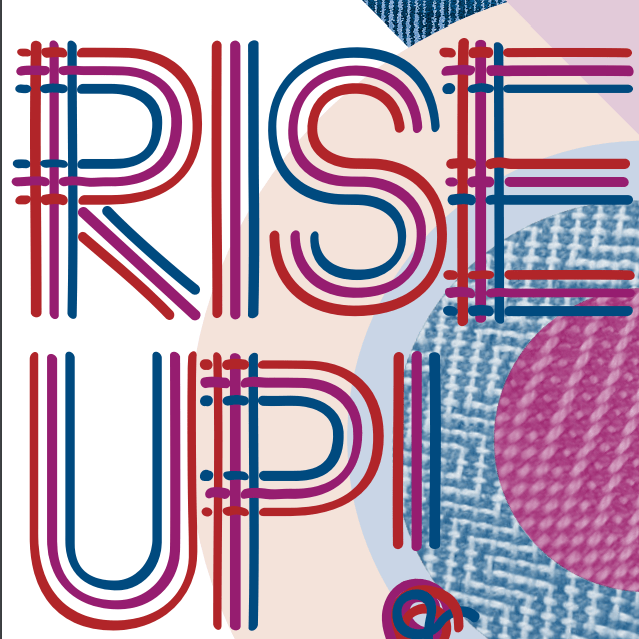 RiseUp! Guide for Young Women's Transformative Leadership
The RiseUp! model is a leadership training model co-created by and for young women. The model was designed to be adaptable and is applicable to advocacy at the local, national, regional, and global levels. It is inclusive of religious, cultural, and traditional perspectives that enable
women's empowerment and leadership.
Our comprehensive RiseUp! Guide develops transformative leadership skills in young women. It empowers young women to be decision makers with ownership of their rights and future. The Guide includes powerful examples, critical information about leadership, global context, helpful
notes for facilitators, information about relevant social issues, and more.
This Guide embraces the core values of Rise Up! to strengthen its participatory peer-to-peer approach to training and mentoring. It acknowledges that young women's
leadership actively aims to disrupt patriarchal structures and helps in building a powerful, supportive network of young women leaders of present and future by decolonising leadership.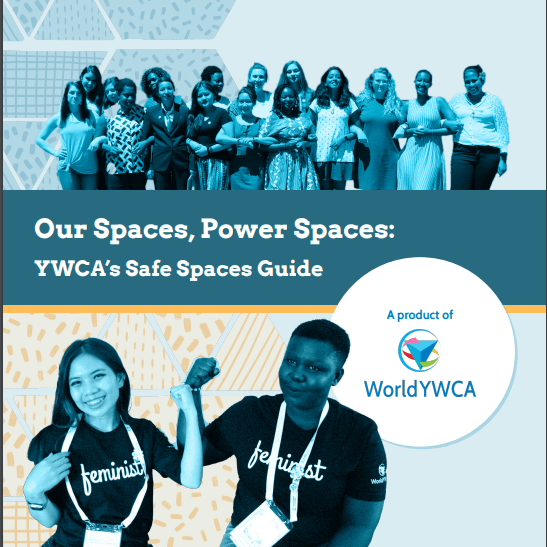 Our Spaces, Power Spaces
YWCA's Safe Spaces Guide
For over 160 years, the YWCA has provided safe spaces to women and girls of all ages in local communities around the world. This began with the first YWCA in London in 1855, which provided safe housing to young women coming to the city in search of employment, and continues today in many forms. From emergency shelters for survivors, to gatherings for young women to discuss harmful traditional practises, to support groups for women living with HIV, to space for open psycho-social or spiritual dialogue, or to plan an advocacy effort YWCAs have continued to hold safe space for millions of women, young women, and girls.
Over time, YWCA's safe space approach has evolved to be responsive to the changing needs of society. For example, with shifting technologies, these safe spaces are growing exponentially in the virtual world — connecting women of all ages beyond geographic barriers, weaving together a shared
community. The recently updated YWCA's Our Spaces, Power Spaces Guide is scalable, customizable, and applied to the specific needs of people in their local community, dealing with different, relevant issues and connecting individuals to resources, information, and opportunities.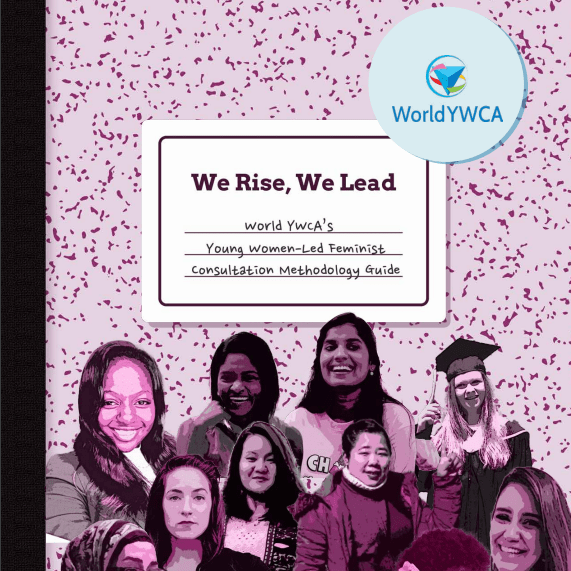 World YWCA's Feminist Consultation Methodology
The Feminist Consultation Methodology provides a new and much-needed approach for engaging communities. This Methodology differs from traditional research methodologies which are often rooted in colonial approaches for evidence gathering. Within this Methodology, research is framed as the spark for transformative justice. Anchored in a diverse, democratic, and decolonised
approach, this Methodology is designed to centre girls and women in all their intersecting identities.
A crucial focus of the Methodology is placing power into the rightful hands of women and young women to be the leaders of their lives and futures. Co-created by and for young women using the same participatory approach
described therein, the Methodology is an authentic reflection of innovative, feminist leadership. This Methodology takes into account language, tone, and power dynamics by fostering intergenerational knowledge sharing, self-determination, and agency. The data and insights produced by the Methodology will dictate the focus of and generate collective action, including philanthropic and multi-lateral support of women's rights efforts.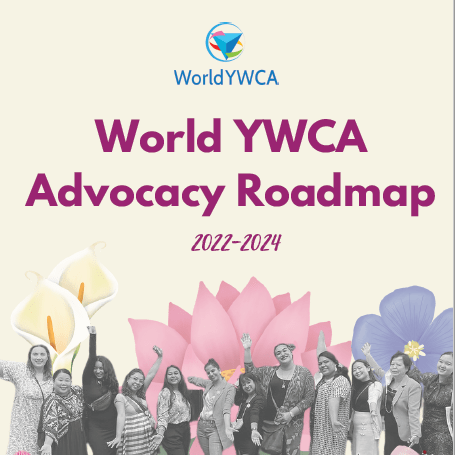 World YWCA's Advocacy Roadmap
The World YWCA Advocacy Roadmap lays out the pathways to guide our actions and ensure that World YWCA remains disciplined in focus and depth of impact. We consider advocacy as a set of strategic activities designed to influence decision makers, laws and regulations, structures and practises to address the root causes of injustice and transform power structures for gender equality.
The World YWCA uses different advocacy methods and tools depending on the context including policy research, campaigning, public events, lobbying and policy dialogue, media work and production of assets such as podcasts, toolkits, and statements. We acknowledge that effective advocacy is multifaceted, complex and beyond the
scope of a single organisation. The Roadmap focuses on three thematic areas, as mandated by the global movement, and leaves space for context-related advocacy in other areas:
– Sexual and Reproductive Health and Rights (SRHR) and Mental Health
– Peace with Justice
– Sexual and Gender-based Violence