News & Events - Latest News -
Impact from the Heart of Communities : A report on the World YWCA response to COVID-19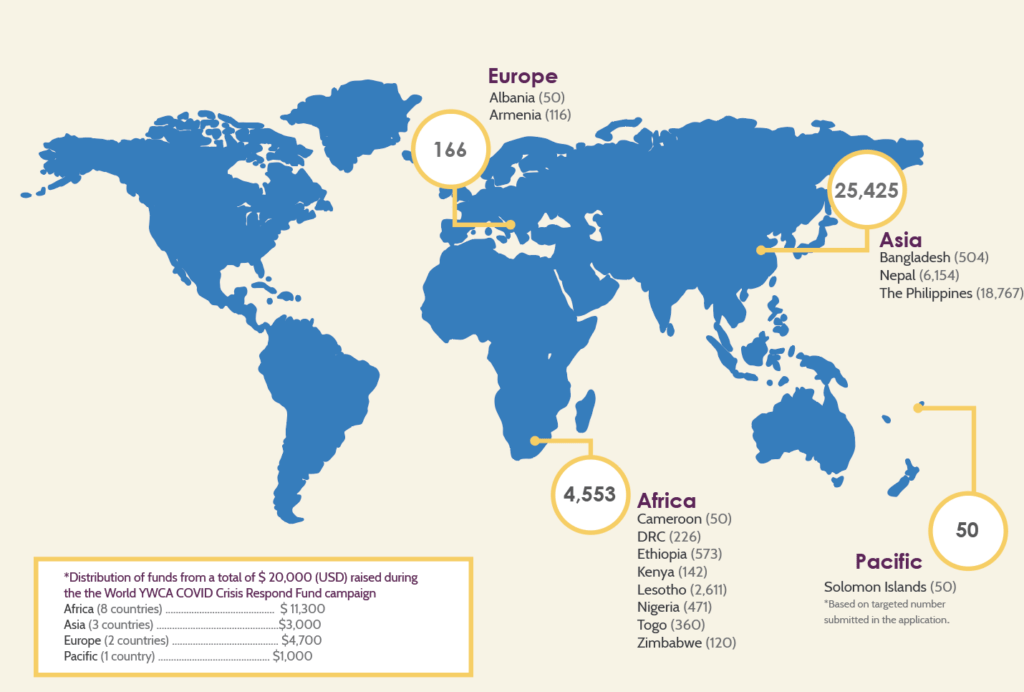 The prevailing global COVID-19 pandemic became a prolonged threat to life as we know it. It has affected every person indiscriminately while amplifying and heightening all existing inequalities. Across every sphere, from health to the economy, security to social protection, the impact of COVID-19 is exacerbated for women, young women and girls worldwide by virtue of their sex.[1]
For so many women, young women and girls, navigating the COVID-19 pandemic became more frightening, dangerous, and uncertain due to the multiple and intersecting challenges that they face every day. Some of these include the realities of child care, looking after family members, discrimination and abuse, domestic violence, additional financial strains resulting from a reduction in income and unexpected bills, limited access to healthcare, among other barriers.
The YWCA movement is practiced at the art of being agile and creative in response to the unique needs of every community that it serves and the challenges of every era. When the COVID-19 outbreak was announced in early 2020, YWCA immediately became part of the global response.
With the support of individuals and organisations that generously donated to the #YWCACrisisResponseFund, YWCA member associations have been able to respond and address the issues reflected in the World YWCA iceberg highlighting the impact of COVID-19 on women, young women and girls; with some effects being apparent, while others going unseen.
YWCA member associations and leaders in every region of the world, have provided life-saving information, much-needed psychosocial support and safe spaces, and essential resources such as personal protective equipment, food, and menstrual hygiene products.
In addition, relevant and community-based interventions led by YWCAs have served to equip women, young women and girls to mitigate and respond to gender-based violence, explore income-generating opportunities and allow them to become part of a constructive, inclusive global response to COVID-19 from communities, in communities.
YWCA response summary:
Click here to read more on how YWCAs responded to COVID-19 when the pandemic was announced early in March 2020.
Number of women, young women, and girls reached in the first wave of YWCA community interventions (September – December 2020) funded by individuals and organisations that donated to the YWCA #CrisisResponseFund: 30,000+
---
[1] UN Secretary-General's policy brief:The impact of COVID-19 on women