Join us for 16 Days of Activism Against Gender-Based Violence!
Intergenerational Action: Co-Creating a World Free from Gender-Based Violence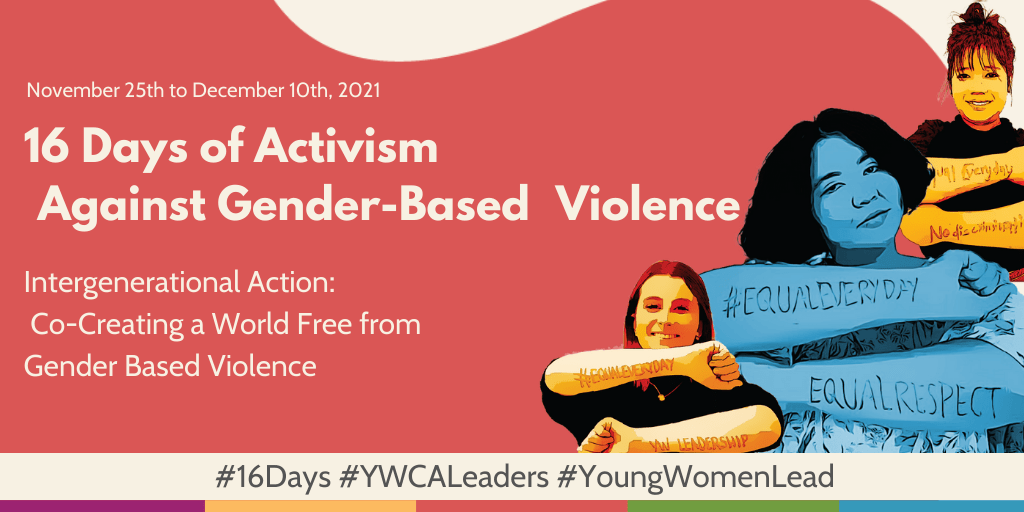 The 16 days of activism against gender-based violence is a global international campaign annually held between 25 November and 10 December to bring awareness on violence against women (VAW). This year, the dates will be used globally as an opportunity to raise awareness and advocacy around the topic of femicide or the gender-related killing of women.
In 2021, as the campaign completes its 30th anniversary, the World YWCA invites leaders, activists, partners and other actors to look at the theme from an intergenerational lens, inviting all generations to work together for a world free from violence of any form.
To co-create solutions for a world without GBV, we present our 2021 Toolkit and invite you to engage in this cause by using some of the following resources:
Easy-to-use and

customisable social media templates (page 3);
The latest data about GBV and femicide around the world (page 1);
Ideas on

how to engage during #16Days

(page 2);

Great resources

to increase awareness on the topic (page 3).
Download it and contribute to the fight against femicide and gender-based violence by sharing the content in social media, planning engaging activities and/or advocating with other tools shared in this document!
You can also go to our Padlet dashboard to get instant access to some of these resources.
Don't forget to engage on social media using the hashtags #16Days #YWCALeaders #YoungWomenLead