This #InternationalWomensDay2021, World YWCA Invites All to Sign a Pledge to Support LGBTIQ Women and Marginalised Genders!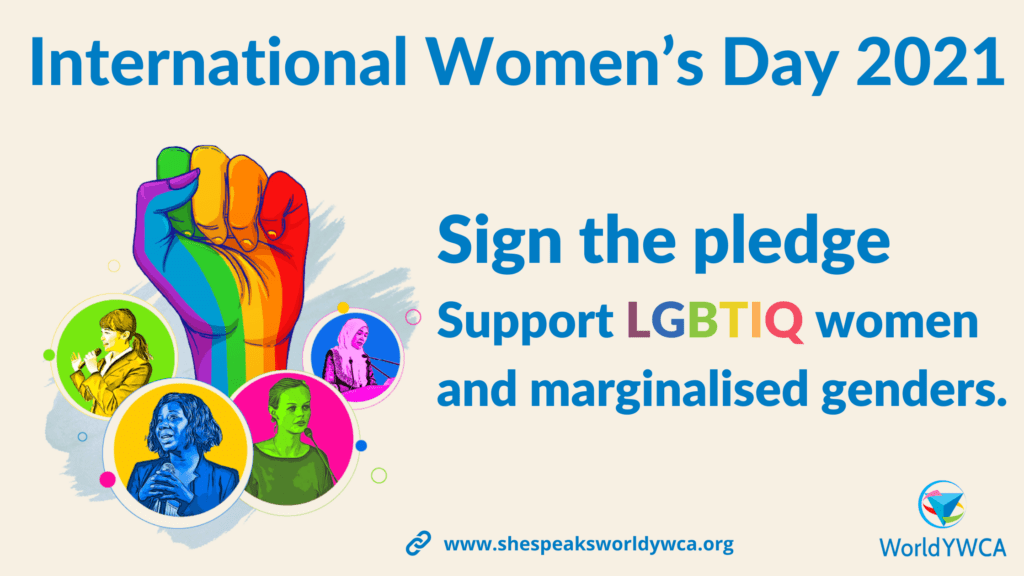 At World YWCA, we stand for inclusion and safety of LGBTIQ people. We know that women and people of marginalised genders and sexualities share commonality of oppression by patriarchy, with the added intersectional experiences of race, geographical location, religion, culture, class and colonisation. World YWCA has been fighting for gender equality for over a century, and we believe that an inclusive, intersectional approach to human rights is vital to sustaining a bold, progressive women's movement.
We know that diversity brings strength to women's movements and have sought to deliver advocacy and support to diverse communities for many years, in our commitment to strengthen community bonds with and between diverse groups of women, young women and girls.
As noted in the United Nations Human Rights Council resolution 32/2, 'an inclusive society enables people to enjoy protection from violence and discrimination', and World YWCA is committed to our mission[1] of inclusion.[2]
World YWCA is aware that minority women continue to suffer discrimination and marginalisation and are at higher risk of experiencing human rights violations including: women living with disabilities, women living with HIV, women from racial and ethnic and religious groups, lesbian, bi-sexual, transgender and queer (LBTQ) women, as well as intersex and gender non-conforming people. World YWCA seeks to participate in and advance LGBTIQ advocacy work, and to actualize a more inclusive movement.
World YWCA invites you to sign this pledge and support LGBTIQ women and marginalised genders and advocate for the expansion of LGBTIQ rights.
Gender equality cannot be achieved without equality for ALL women and marginalised genders.
---