World YWCA and the Australian Government come together to launch RiseUp!- the young women leadership and advocacy initiative, reaching thousands of young women in the Asia-Pacific region
"When young women have the space support to rise, they do so. When they have the space to practice the leadership & make change happen, they do so"
August 4, 2022: Women leaders from across the Asia-Pacific region gathered in Bangkok, Thailand to formally launch the RiseUp! young women leadership and advocacy initiative.
Commencing in November 2020, with the support of the Australian Government, RiseUp! is reaching young women across Asia and the Pacific at a time when women and young women's voices are needed more than ever. As communities across the world continue to grapple with the ongoing pandemic, as well as economic, social, political and climate crises – these young women can help find meaningful solutions that benefit all.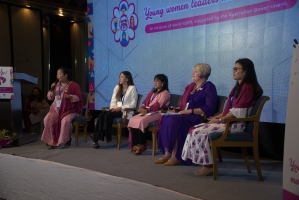 Led by YWCAs in the region, the program aims to ensure that "young women are confident leaders who create safe spaces and networks and inspire young women to build an inclusive society, empowered by intergenerational leadership." With the leadership of World YWCA, RiseUp! builds self-esteem and confidence of young women to ensure that young women with the support from families, peers and allies, are part of the global women's rights movement, leading organisations to practice leadership and influence policy advocacy.
The event which was broadcasted live witnessed audience joining from around the world, across generations to share insights and support the cause of young women leadership. Stories of leadership were shared between generations through the official video and intergenerational panel.
The powerful welcome address by Casey Harden, General Secretary of World YWCA shared that, "The Australian Government has been an instrumental, invaluable, irreplacable partner in making RiseUp! happen in the Asia-Pacific region. We have strengthened the leadership of thousands of young women in nine countries in the region. Today, in the ambitious current Phase IV, more than 6,000 diverse young women from nine countries will be RiseUp!, building their skills and owning safe spaces as leaders and in that ownership, co-creating and co-designing the world they wish to live in."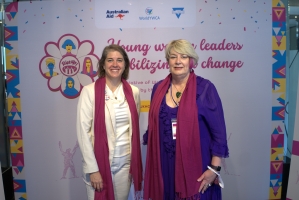 Christine Clarke CSC, the Australian Ambassador for Women and Girls, made the Keynote Address where she shared her valuable insights and inspired the audience to reflect on their own intergenerational leadership style. Sharing stories from her journey as a leader, Christine reflected, "We are now in the fourth phase of RiseUp! And I share YWCA's passion to support young women's leadership. It's about giving young women the tools and information to form views on how to improve the work around them. And encouraging them to take all the opportunities they can to show leadership – in their families, their communities and their workplaces."
Casey Harden, Secretary General, World YWCA and Dr. Angela Macdonald, Australian Ambassador to Thailand launched critical tools informed by a new, much needed approach for engaging communities, challenging dominant colonial research approached and centring girls and women in all their intersecting realities, informed by evidence and data from a feminist perspective. These included: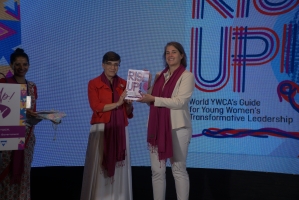 A powerful booklet of stories from the Alumna of the RiseUp! initiative from previous phase was also shared.
The accessible, adaptable and low-cost tools are available for use across the globe.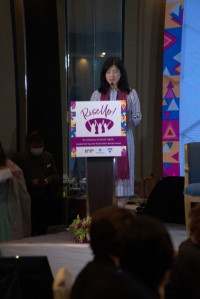 The event closed with a powerful closing remarks by the President of YWCA of Thailand who urged the audience to think around their approaches to intergenerational support for young women. "Today, as we close this event, I humbly invite each of you to see this as a start of or reminder and reinforcement of the ways each of you can or already have been practicing intergenerational support and collaborative learning towards young women leadership. We are all mentors, we are all mentees in this cycle of learning, unlearning and growth. By investing in strengthening young women's leadership journey, we are working towards building more humane, sustainable and people-centered society."
Watch the whole event here.
Check the album of the event here.
For information, please contact:
World YWCA