News & Events - Latest News -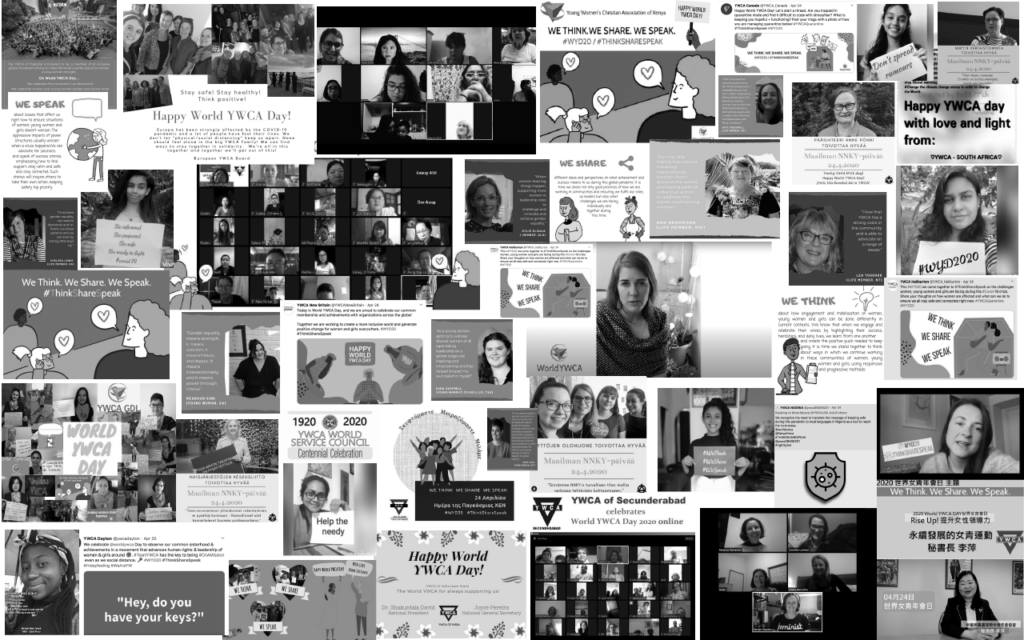 ThinkShareSpeak: World YWCA Day 2020
Every year on April 24, YWCAs around the world celebrate World YWCA Day. We observe our common vision, legacy, and future as part of this dynamic movement that advances the human rights and leadership of women, young women and girls. This year, in the shadow of the global pandemic, women, young women and girls took time to once again name the YWCA as an invaluable global movement of leaders and work.
Despite the unique challenges that YWCA leaders are facing during the current coronavirus pandemic, member associations across the world came together to meet virtually around the theme "We Think. We Share. We Speak". The theme inspired and motivated women, in all their diversity, to connect and #ThinkShareSpeak around the realities they are currently facing with COVID-19.
In preparation for this special day, the World YWCA disseminated a toolkit with ideas on how to use technology to connect wherever possible while following all global country specific protocols to ensure safety. The toolkit also offered resources such as how to conduct virtual safe spaces to support women, young women and girls during and beyond the crisis.
The day began with Casey Harden, the General Secretary at World YWCA, inviting leaders of the movement to #ThinkShareSpeak as they progress with their day on how they work towards the actions in supporting women, young women and girls, going long way to ensure that the impact is as reduced as possible, not just now during crisis but during the many months or years of post-pandemic recovery.
Women, young women and girls took on to social media to celebrate, amplify, reach out to fellow leaders on Facebook, Instagram and Twitter. Some YWCAs used this opportunity to share messages of gratitude to those who are at the frontline of the COVID-19 response and to voice pressing needs to reach out to more communities worldwide.
Women and young women were also invited to join four different Virtual Safe Spaces that were organised by the World YWCA and conducted by YWCA leaders. These virtual safe spaces were held in different languages over time zones with an intergenerational set of participants from inside and beyond the YWCA movement, all interested in the cause of supporting each other during COVID-19 pandemic, The participatory conversations held in these spaces included topics such as challenges, opportunities and coping mechanisms during the pandemic. Many YWCAs hosted virtual safe spaces in their regions and countries, including Belarus, Japan, Myanmar, USA, Argentina, Bahamas, Canberra, and many local YWCAs like YWCA of Charleston (USA) and Secunderabad (India).
A leader and participant to a World YWCA Day Virtual Safe Space from The Bahamas YWCA shared:
The World YWCA Virtual Safe Space provided an environment that encouraged all members present to share experiences, opinions, and views without fear. The confidential meeting focused on the COVID-19 pandemic and how each participant felt impacted. Topics of concern ranged from mental health and family life to the escalation of police brutality and domestic violence in neighbouring communities.
Partner and long time supporter World Service Council, actively facilitated engagement with their members and joined the celebration by sharing a blog on their history and leadership journey supporting thousands of women and young women within the YWCA movement. This year marks their centennial year of service as the philanthropic link between the YWCA USA and the World YWCA.
Supporting groups such as the World YWCA ConnectNet discussed topics on the history, legacy and relevance of the YWCA, especially in times of crisis. The group, composed of former staff, executive committee members and volunteers from almost every region in the world, shared their wisdom and ideas to support YWCAs during current times and reflected on the bold achievements and resilience of the movement.
Casey Harden, in her message to the movement, motivated and encouraged all leaders to join the World YWCA in advocating for women and young women through the YWCA crisis response fundraising efforts being led by World YWCA. She reinforced that active and constant support to spread the voices and work of YWCAs during this crisis is core to ensure we get best resources to YWCAs that need them right now during the global pandemic.
In light of the theme, it was truly a day women in all their diversity came together to #ThinkShareSpeak.