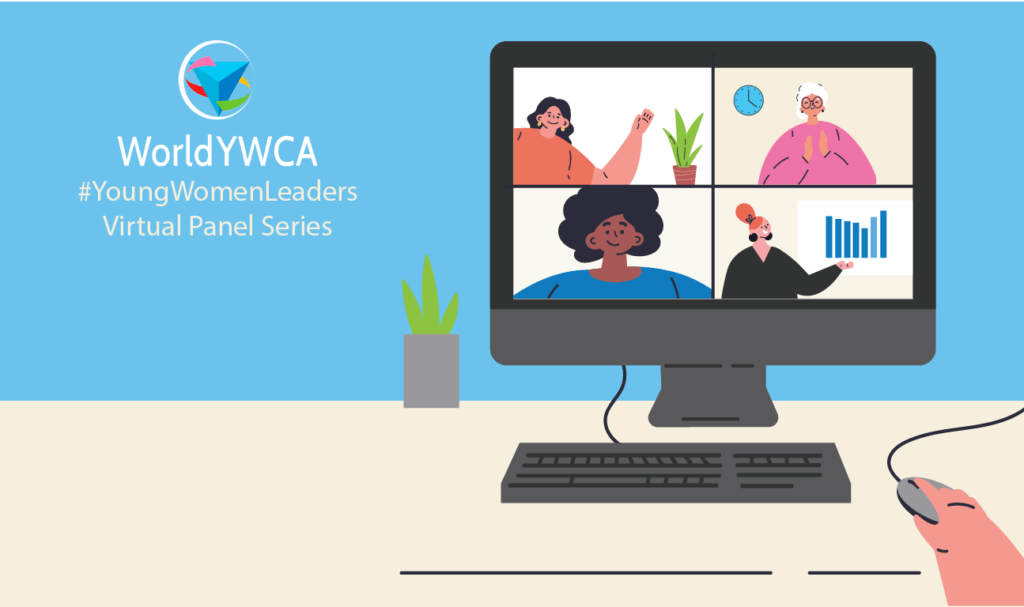 #Young Women Leaders Panel is an initiative launched by the World YWCA, to provide a space for leaders around the world to connect and discuss on different topics around leadership, sharing opinions, tips, raising issues and challenges that many young women face.
With the world facing unique health and economic crisis, online panels have gained popularity in the past few weeks, especially where physical distancing is a norm. However, a number of panels on COVID-19 and its impact in countries are led by men. Even if women are included, young women, who carry a wealth of experience from the forefront are rarely seen sharing their opinions and expertise.
As a global movement that engages with and mobilises women, young women, and girls, the World YWCA is committed to progressive, community-based leadership, particularly through programming that is led by and for young women. Young women have particularly harnessed technology systems to share their opinions, stories and insights from ground.
Women's and young women's leadership is critical in driving inclusive decision-making and activities for COVID-19 response and recovery, addressing women and girls' particular needs during the crisis and engaging peers in safe spaces to share accurate information. The panel highlighted the need to consider inclusion, youth engagement, continuous advocacy and supporting vulnerable groups through social media engagement to ensure the gendered impact is reduced. COVID-19 disproportionately affects women and girls, and their leadership is central to effective response and recovery efforts.
On 20 May, the World YWCA launched the first of a series of virtual panels dedicated to provide space for young women to share their opinions, realities and experiences titled #YoungWomenLeaders. This first online panel on COVID-19: Feminist Response in Communities, included the participation of four young women leaders from the YWCA movement working at the forefront to respond to the current global pandemic in their countries.
If you missed our panels, you can watch the recordings by clicking on the links below.
Panels recordings: